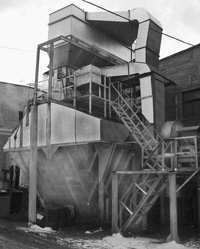 The JSC "Proletarskaya Svoboda" produces equipment for recycling wood waste products capable of heat production.

Solid-fuel steel heat generators are intended for production of thermal energy from unbroken waste products of wood processing and its utilization:
for drying of wood and veneer with flue gases (Heat generators TGSG);
for heating of water (Heat generators TGSV) with subsequent utilization for household and technological needs;
heat generators of multipurpose utilization of heat for drying veneer, wood, and for water heating (Heat generators TGSG with installation UTVS-2).
Advantages of heat generators
Absence of necessity for crushing of wood waste products allows to exclude expenses for preparation system, storage and transportation of "hogged chips".
Reduction of power consumption, required for preparation of raw material.
Reduction of specific expenses for production and delivery of thermal energy for subsequent use.
Minimal ejection into atmosphere of cindery substances. The degree of clearing of flue gases - not below 80 %.
Simplicity in operation and maintenance of the heat generator. Cleaning from cindery precipitation is carried out 1 time in 14 - 17 days and takes less than 12 hours.
Service life of a heat generator before the first major overhaul is at least 3,5 years.
It takes not more 1,5 hours for a heat generator to start and reach the temperature required for veneer drying.
The heat generator is installed outdoors and demand neither special premises nor foundations.
is intended for manufacture of thermal energy from waste products of woodprocessing and its recycling for heating of the heat-carrying medium (water).
The Installation consists of a superstructure mounted on the spark blowout of the heat generator TGSG, a pump station, a monitoring system and automatics. The superstructure represents a metal device equipped with heaters, observation ports and slide valves. The pump station consists of pumps, a heat-exchange device (boiler), a system for protection from superfluous pressure, a storage container for makeup water, pipes and pipeline valves.

The system can serve several consumers. A consumer using elevated temperature (up to 115∞—) of the heat-carrier is supposed to be connected to the first circuit, the second circuit is used by any consumer utilizing high temperature of the heat-carrier (up to 100∞—).



Characteristics of the solid-fuel gas steel heat generators TGSG


Description of parameters
TGSG-1
TGSG-2
TGSG-3
Heating efficiency, Gcal per hour
2.0 - 2.6
3.5 - 4.5
3.9 - 5.2
Thermal capacity, MW
2.3 - 3.0
4.0 - 5.2
4.5 - 6.0
Productivity on the heated up water, m³/hour:
From 20∞ up to 80∞—
From 50∞ up to 75∞—

13 - 18
28 - 42
Flue gas capacity, m³/hour
45 - 55
50 - 68
70 - 100
Fuel consumption, m³/hour
2.2 - 2.5
2.6 - 2.9
2.8 - 3.5
Capacity of the flue exhauster electric motor, KW
45
75
90
Power consumption at operating conditions with frequency converter, KW
30 - 46
60 - 78
60 - 92
Overall dimensions, mm
Length
Width (without taking into account the loading device)
Height (without taking into account a chimney)

8500
7400
7500 (10000*)
Weight, tons
55 (60*)
* If the heat generator TGSG is additionally equipped with a water heating unit UTVS-2.